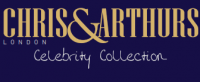 123-131 Bradford street B12 0NS, Birmingham - United Kingdom 
Chris & Arthurs is a fashion brand managed and run by BG Suiting Ltd, a company registered in England and Wales under number 11057919. BG Suiting Ltd came from City Suits Ltd, a multiple shop runner in men's apparel in early 2000.
With this background, Chris&Arthurs is among the top fashion brands producing on
the basis of European quality and standard. Today, we stand out when it comes to
weddings, red carpet and executive suits in contemporary styles, and its attendant shirts, ties, belts, and apparel.
Our sources of production which are in Croatia and Turkey ensure us quality supply and outputs of suits, shirts, and much more on a monthly basis. This allows us to also focus on selling on wholesale as and when the demand arises.
The team under the current CEO Christian Arthur has a long tradition in the high
end of the European fashion industry. The overwhelming accreditation must be given to Alberto D Inzaghi in Milan, a renowned fashion expert, Francis M
.Twum, Business Development Consultant, Mr. Mehmet Tunchay of PGS Istanbul, Max Suker, Zagreb Croatia and Mr. Herbert, Garment Specialist, Graz in Austria.
The team at the forefront of BG Suitings is to ensure that clients get value for money for their outfits in an ever-changing industry thus targeting global attention for Chris&Arthurs products.
WEDDING OFFERS
No worries and bury all the pumping up headaches as how to meet up the massive cost of financing your wedding day suits or outfits. We have tailored wonderful price cuts to see you through. Now select,
CORPORATE OFFERS
Needing quality but affordable price package for your staff? We can surprise you!! Select, pay and submit your order 45 days in advance
and this early bird offer will work for you !!